Who doesn't like good before and after pictures?  Scroll on down through some of our projects and soak in the organization and cleared clutter!
School Scramble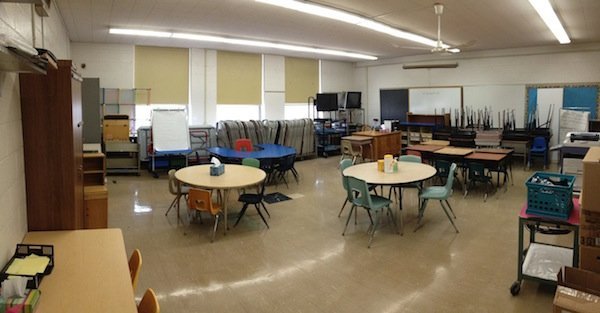 Before: Cluttered and dysfunctional school classroom
After: Ready for class!
How: This transitional space was cleared of outdated and unused materials though donations and proper storage.  Classroom was readied for use as a learning space.  Teachers were asked to claim their stuff or lose it!
---
Craft Room Chaos
Before: Craft room turned dumping ground
After: Creative order restored
How: Decluttered area, made better use of existing storage and improved floor plan
---
Lego Room Transformation
Before: Cluttered storage room
After: Cleared and primed for Lego building
How: Relocated items to proper homes and sorted out items intended for upcoming garage sale
---
Guest Room Clean Up
Before: Dumping ground
After: Ready for guests
How: Relocated items to proper home and sorted out unwanted items for recycling and charity donation
---
Linen Closet Revamp
Before: Crowded and cluttered
After: Transformed to a functional gift center and guest linen station.
How: Linens were relocated to another closet in the home and bins of gift item were brought out from under the homeowner's bed
---
Kitchen Pantry Re-Org
Before: Frustrating can't find anything pantry
After: Functional and well equipped pantry
How: Clutter and unwanted items were cleared out and re-homed or boxed up for donation.  Space was optimized by containerizing like items and putting the most used items easily within reach.
---
Closet Conundrum
Before: This closet was so packed that the client couldn't use it for anything other than tossing stuff onto the top of the pile.
After: Function and accessibility restored
How: Almost everything was removed from the closet.  The vast majority of the items in the closet did not return to the space and were boxed for donation, sale or recycling.  The closet was divided up into different zones to keep this storage space functional and completely accessible.
---
---

Want to be featured on this hall of organizational fame?  Call me at 216-586-4738 or contact me by email to schedule your initial consultation!
SaveSave
SaveSave
SaveSave
SaveSaveSaveSaveSaveSave
SaveSave