Who doesn't like good before and after pictures?  Scroll on down through some of our projects and soak in the organization and cleared clutter!
SaveSave
SaveSave
SaveSave
SaveSaveSaveSaveSaveSave
SaveSave
Baffling Bonus Room
Before: A dumping ground masking a teen hangout space.     After: Ready for chill time!
How: Sorted though clothing (lots not pictured), pulling out tons for donation and resale.    Time: 3 hours
Garbled Garage
Before: A case of the "if it fits, it sits" syndrome.     After: Primed for function!
How: Tucked seasonal items up high and out of the way. Moved frequently used items easily within reach, gave loose items home on the organized wall.     Time:  45 minutes.
Disheveled Basement
Before: Ultimate dumping ground for outgrown toys, sentimental items and holiday decorations.    After: Nearly ready for guests!
How: Sorted out items for sale and donation, containerized and stored memory items in nearby storage closet.     Time: 4 hours.
Craft Room Chaos
Before: Craft room turned dumping ground.    After: Creative order restored ready for the Girl Scout Troop!
How: Decluttered area, made better use of existing storage and improved floor plan.  Time: 2 hours
Crowded Linen Closet
Before: Crowded and cluttered.    After: Transformed to a functional gift center and guest linen station.
How: Linens were relocated to another closet and bins of gift item were brought out from under the homeowner's bed.     Time: 1 hour
Not Quite Guest Ready
Before: Dumping ground.    After: Ready for guests.
How: Relocated items to proper home and sorted out unwanted items for recycling and charity donation.     Time: 1.5 hours
Closet Conundrum
Before: This closet was so packed that the client couldn't use it for anything other than tossing stuff onto the top of the pile.     After: Function and accessibility restored
How: Almost everything was removed from the closet.  The vast majority of the items in the closet did not return to the space and were boxed for donation, sale or recycling.  The closet was divided up into different zones to keep this storage space functional and completely accessible.     Time:  5 hours
Problematic Kitchen Pantry
Before:  Frustrating can't find anything pantry.     After: Functional and well equipped pantry.
How: Clutter and unwanted items were cleared out and re-homed or boxed up for donation.  Space was optimized by containerizing like items and putting the most used items easily within reach.     Time: 1 hour
Piled up Pantry
Before: Jammed up pantry with no rhyme or reason.    After: Ready for meal prep!
How: Ditched expired food items, added in containers for smaller items and added can risers to make everything easily accessible.     Time: 45 minutes
Hobbled Home Office
Before: A slip and fall waiting to happen with lots of distractions.     After: A space that's easy to get work done in.
How: Decluttered paperwork and office supplies, tweaked existing filing system and reorganized furniture to provide more floor space and increase functionality.     Time: 7 hours
Cluttered Closet
Before: A closet filled with forgotten about items.     After: A place for everything, with more work to be done.
How: Decluttered items client no longer wanted and relocated items to new homes and reordered remaining items so they can be easily accessed.     Time: 1 hour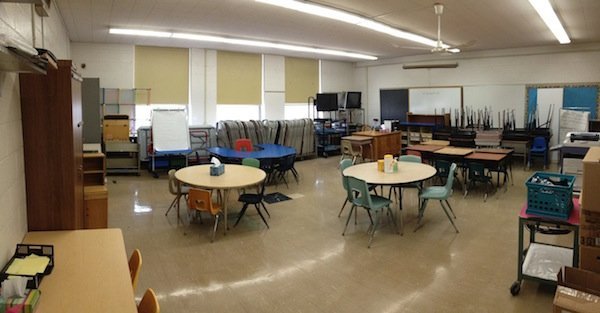 School Scramble
Before: Cluttered and dysfunctional school classroom.    After: Ready for class!
How: This transitional space was cleared of outdated and unused materials though donations and proper storage.  Classroom was readied for use as a learning space.  Teachers were asked to claim their stuff or lose it!     Time: 12 hours
SaveSave
SaveSave
SaveSave
SaveSaveSaveSaveSaveSave
SaveSave
Want to be featured on this Organized Wall of Fame?