Tired of having piles of paper everywhere?
Over having shuffling through stacks to find what you need?
Not sure how to begin tackling the piles because you're scared of tossing something important?
Imagine what it would be like to…
Have everything organized in a way that eliminates the piles and stacks forever!
Confidently distinguish between an important document to keep versus something you should just recycle!
Quickly set up a system to safeguard vital documents!
INTRODUCING CONQUER YOUR PAPER CLUTTER FOR ONCE AND ALL!
Organize all your paper with this uncomplicated system.
Skip the overwhelm and frustration to easily get it all in order!
THE EXACT ROADMAP FOR CLEARING OUT THE PAPER CLUTTER FOREVER
This guide has everything you need to know to finally get your paper under control
TAKE A PEEK INSIDE THE GUIDE…
Six straightforward lessons to help you organize all of your papers and make sure the piles never come back!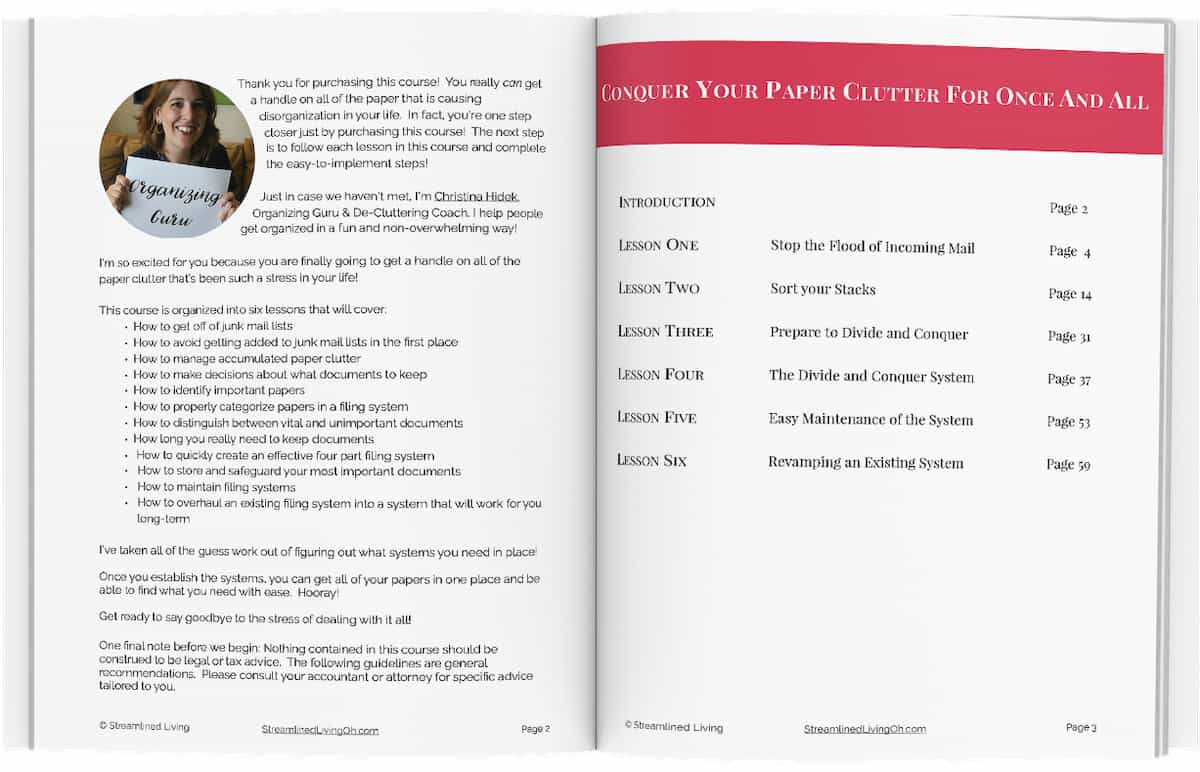 LET'S GET RID OF THE CLUTTER AND WELCOME IN ORDER.
Invest in yourself now and get this essential guide for $75.
About Christina Hidek
An attorney turned Professional Organizer, Christina's been helping commercial and residential clients in the Greater Cleveland clear their spaces of chaos and clutter for almost a decade.
She's used her organizing prowess in homes of professional athletes and has been featured in Women's Day, First for Women, Good Housekeeping, Fast Company and more!
YOU DESERVE TO HAVE A SPACE FREE OF PAPER CLUTTER AND ALL OF THE OVERWHELM AND STRESS THAT COMES WITH IT
Get Conquer Your Paper Clutter now for $75.