A large part of keeping kitchen counters cleaned off and de-cluttered, is having a place to put everything.  And having your cabinets not only organized, but optimized plays a huge role in keeping a kitchen in order.  I have collected some of the very best options for doing just that and offer these wonderful kitchen cabinet organizing solutions:
Easy to Reach
First, for the under cabinet area, an option that pulls out is so, so, so fabulous!
I have a pull out drawer that installs into the bottom of my kitchen sink cabinet, and I loved it so much that I moved it with us from our old house!
I can't imagine not having it because it eliminates the need for fishing at the back of the cabinet for what you need.  No, my friend, those days will be over when you install one of these fabulous solutions:
Elfa Cabinet Sized Drawers are a good option for smaller items, like cleaning cloths, sponges and scrapers and jarred cleaning products, so I would suggest this for only one side of beneath your kitchen cabinet.  A big issue with under the sink kitchen cabinet organizing solutions is that they have to handle different sized cleaning products and supplies.
For the other side, you need a different option, with more of an open space for larger items…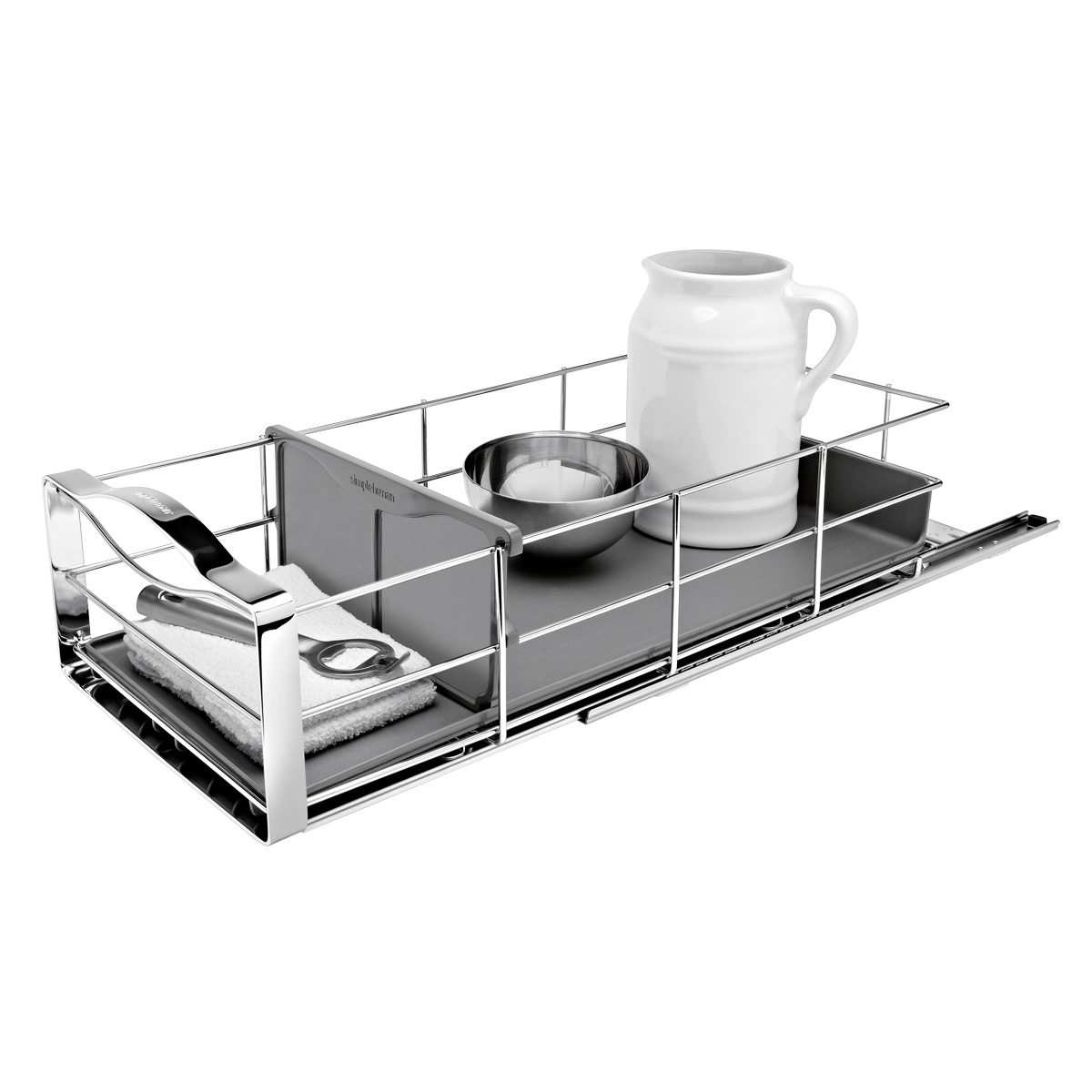 … much like this Simple Human Cabinet Organizer.  The pull out drawer has adjustable and removable dividers that will keep to keep taller items upright when moving the drawer in and out!   It's available in two different widths to accommodate most under cabinet spaces!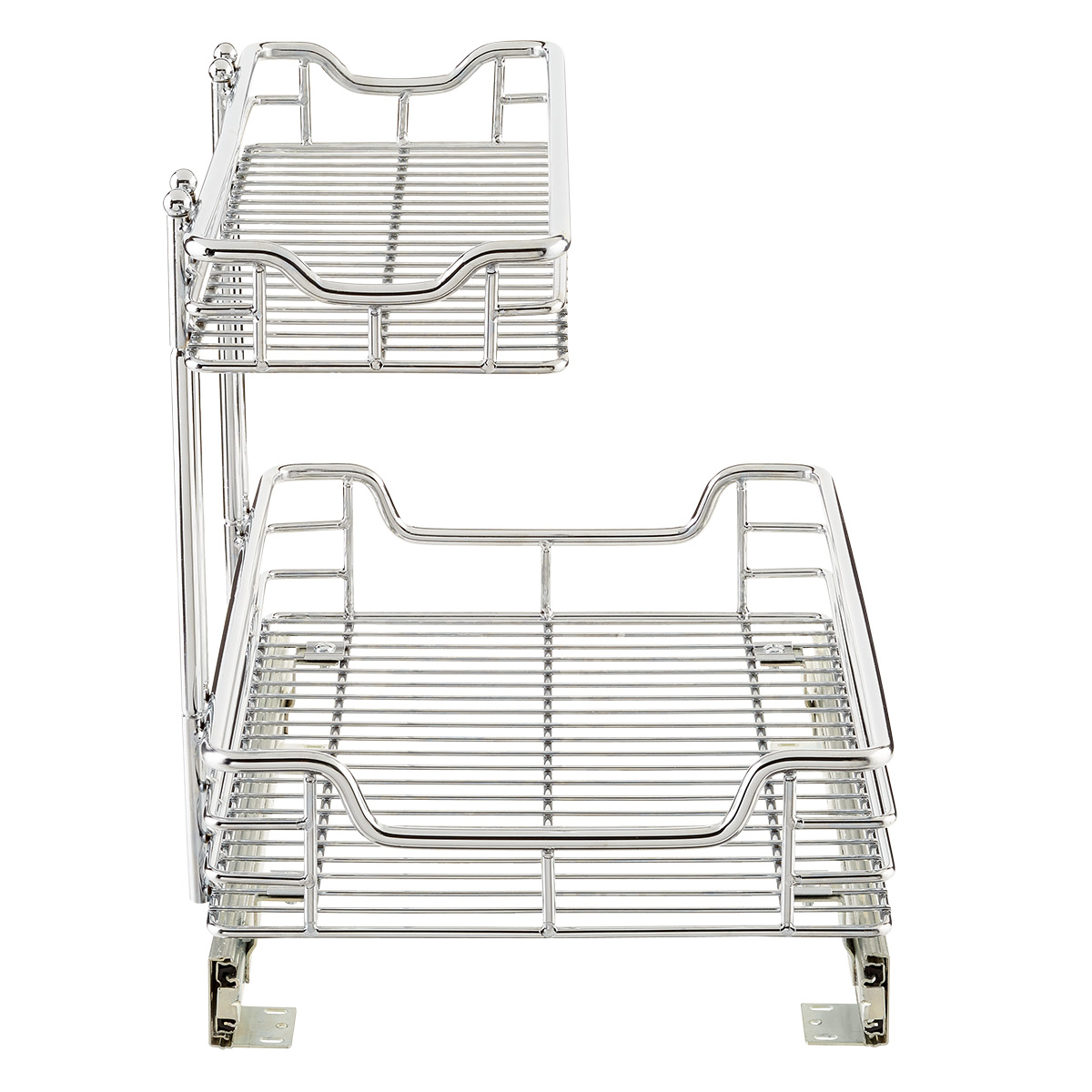 This Two Tier Pull Out Chrome Organizer can be installed with the top tier on the left or the right, making it a really flexible option for lower cabinets!
Make use of the vertical space
Next, the's go up the chain and focus on upper kitchen cabinet organizing solutions: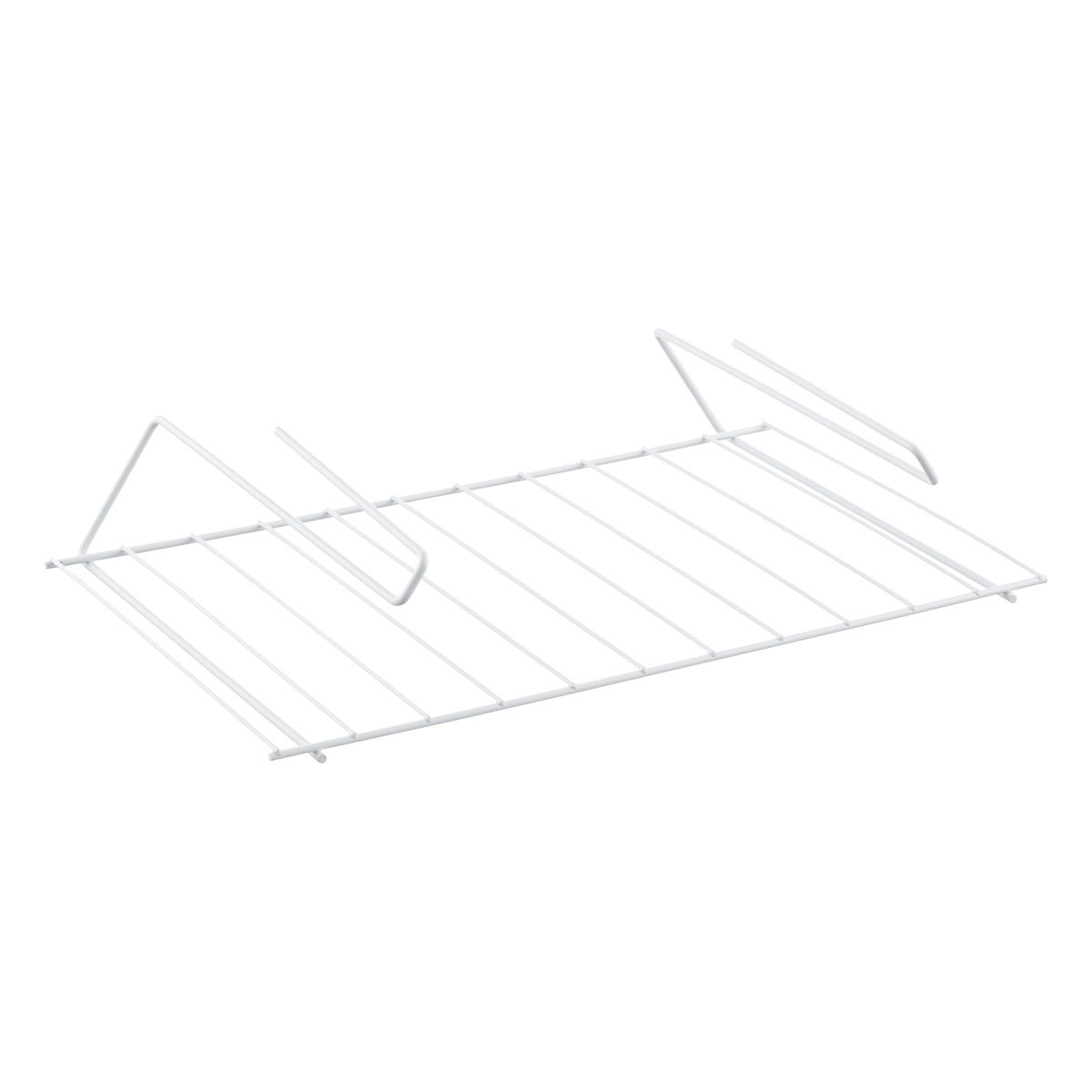 Placemats are one of those categories of things that are kinda funky to store in a good place.  A place where they might actually get used instead of just being shoved in an out of the way location.  This Under Shelf Placemat Holder really does change all of that!  It has a low profile so that you can store placemats right under a shelf with a few inches of clearance beneath it.  The placemats will be on hand to use for all occasions and this will reduce the likelihood of forgetting that you have them!
If you have a tall cabinet without a lit of shelves and tall items on the shelves, these Under the Shelf Baskets help to eke out every last bit of space!  They're available in a few different widths and finishes, with means that you'll be able to find something that will be a perfect solution!
Another feature of these baskets that I really like is that the support piece that is on the top of the shelf is flat.  That allows the shelf to be installed without much bothering the items already on the shelf allowing for near genius levels of kitchen cabinet organizing.
An Expanding Cabinet Shelf has a huge benefit of adding a second shelf that is the complete width of the space in an easy and inexpensive way!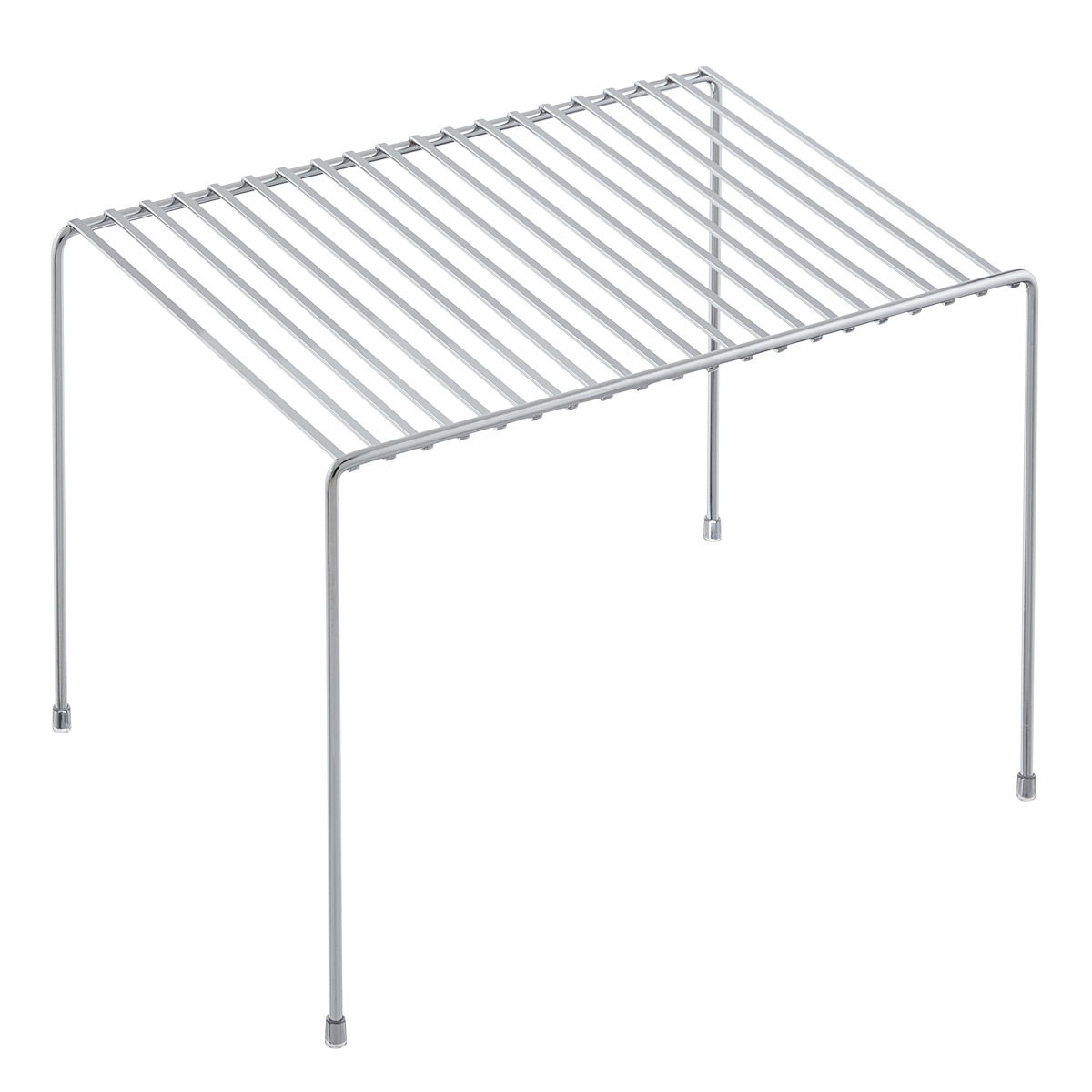 Tall Cabinet Shelves work really well to double space on tight shelves.  I like to make sure that I can get things with one hand as much as possible.  In this picture of the tall shelf, if I wanted to get a plate from the bottom stack, I'd have to use another hand to lift up the bowls.  Not a huge headache, but how nice would it be to get rid of that small hassle?
Great stacking options
Bamboo Stacking Shelfs are a different aesthetic look for space doublers.  These shelves offer stacking stability with the narrow grooves on the top of the shelf.  If bamboo is your thing, you'll be really happy with these shelves, as they're available in a variety of sizes, ranging from small to large.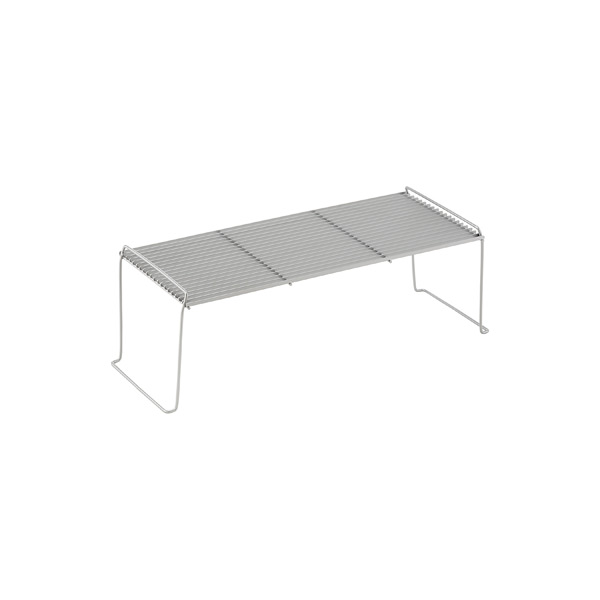 Interlocking Stacking Shelves allow for space doubling or tripling with added structure.  See how the feet of the shelf go out?   And how there's a bar at the top that leans in? That's because they're designed to hook together!  When I played around with these shelves in the store, I was surprised by how sturdy they were when put together.   A great solution for kitchen cabinet organizing when you have room to go vertical!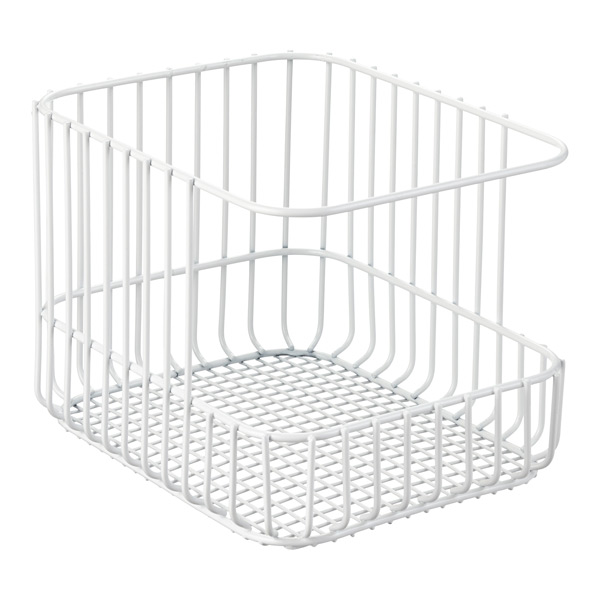 Scala Stacking Baskets offer the benefit of being able to pile things up and take full advantage of the vertical space in the basket.  There are at the top of my wishlist for my pantry.  I  need to corral some kid snacks and these will work perfectly!
Want even more information about these great kitchen cabinet organizing solutions?
Watch the Facebook Live I did about all of these solutions and more.  After the video, come join me to talk all things getting organized in my Free Facebook Group!
Disclosure: I am a participant in an affiliate advertising program designed to provide a means for sites to earn advertising fees by advertising and linking to the Container Store.  This means that when you click and make a purchase at a site via a link I have provided, I make a small commission at no additional cost to you. Regardless of whether or not I receive a commission, I only recommend products that I personally use and genuinely recommend, and I always have my readers' best interests in mind.
SaveSave
SaveSave
SaveSave
SaveSave
SaveSave
SaveSave
SaveSave
SaveSave
SaveSave
SaveSave