Ever wondered what the very best products to organize every inch of your kitchen are?

You're in luck!

This post has the details on all of the most fantastic options for bringing order, optimization and organization to every corner of your kitchen!
The solutions shared in this post are the tried and true products that not only work in my own home, but also are the same kitchen organizing solutions that I recommend for my many clients, time and time again.
Favorite Cabinet Organizers
No matter the size of your kitchen, disorganized cabinets are such a frustration!
There are a bunch of options to bring additional structure and function to your cabinets with a few small tweaks.
Go Vertical!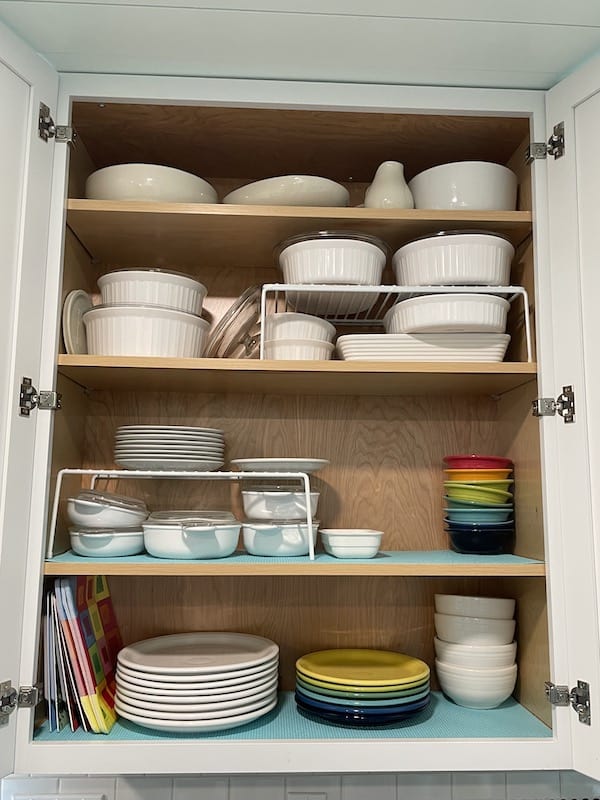 Most people know to use the available horizontal space in cabinets, but not as many think to use the full vertical space too.
Instead of stacking small plates on top of larger ones, use a space doubler instead.
This literally doubles the amount of space, freeing up space for other items.
Cabinets vs. Drawers
Kitchen drawers are like beachfront property, but too often they're filled with items that really should or could live elsewhere in the kitchen.

And most kitchens don't have enough drawer space to begin with, so it makes sense to kick out items that are better suited for other locations.
Spices are a huge space suck in drawers, especially if stored flat.

A well rounded spice and herb "collection" can quickly take over a lot of real estate if left unchecked.

These pull out spice racks are simply the best way to store lots of spices in a compact and attractive way.

The accommodate both round and squared off jars, so no need to invest in a matching set of spice jars.

I installed these same racks when we renovated our kitchen and I love how easy spices are to find and grab out with little effort when whipping up a meal.

The most frequently used jars end up in the front, but the lesser used options are still visible and within easy reach.

The racks are quick and easy to install too, making them a great addition to any kitchen space.

Smaller jars of lesser used spices live on a turn table on the shelf immediately above and the super big bottles of spices live on the next shelf up.

They're all still super easy to access and don't get in the way of day to day cooking.
Clear out wasted drawer space
Another idea for freeing up drawer space is to move rubber trivets and pot holders out of a drawer and onto the backside of a cabinet drawer.

Use a clear Command Hook to hang them up to keep the close at hand.
Add one or two to the inside of the cabinet door closest to your stove.
Keep Everything Within Reach
End the dig for what you need that's at the back of the cabinet.

Put everything within reach by using a turntable for the space!

The bonus reason for using a cabinet lazy susan is that smaller items don't get lost in the shuffle.
For Tea Lovers
Half filled tea boxes eat up a lot of valuable space in cabinets, so consolidate them all in this fabulous tea organizer from YouCopia.
Pro Tip for Successful Command Strip Installation
Clean the area where you'll hang the hook and let it dry completely (at least 10-15 minutes) before revealing the adhesive and sticking the hook on to the cabinet and pressing firmly..

And then (here's the magic!) wait 24 hours before putting any weight on the hook.

I know you're anxious to get everything hung up and this mini project checked off of your list, but waiting this time ensures the adhesive has time to fully adhere to the surface, making for a durable hook.
Dapper Drawers
Spruce up kitchen drawers with a non-slip liner that is both easy to cut to size and keep clean.

The bright blue is such a nice surprise when drawers are opened!

Made from EVA (not PVC) it doesn't stink and can be used in drawers, cabinets or even the fridge.
Organized Knife Drawer
Especially if you're looking for a cleaned off counter look, moving knives out of dight and into a drawer is the way to go.

Having the knives loosey, gooey in a drawer is a recipe for an especially dangerous disaster, so avoid that altogether with a knife drawer insert, like the one shown above.

It's been in use in my home for over a year and is working very well, with very few signs of wear, despite quite a bit of use!
The other important thing to note is that not all kitchens can accommodate a drawer organizers with just one or two utensils per slot.

No shame in grouping like things all together like I did for my knife/cutting drawer.

Peelers, zesters, pitters and slicers all live together in a shallow and wide bin, with scissors nestled in between the knives.

The most frequently used items sit on top, but the less frequently accessed items lay just below.
Orderly Utensils
A tidy utensil drawer is the dream, right?

These Joseph and Joseph utensil organizers help make the dream come alive!

They come in both small and large, and because I have about 24 place settings, give or take a few lost spoon or forks, there was no way everything was fitting into the small, so I used both sizes to fill the drawer.

Teaspoons and salad forks went into the small organizer on the left and the tablespoons and dinner forks in the large organizer on the right.

The utensils got wedged in the drawer when the top two compartments are used, so that's why they're empty.

Instead, disposable tableware gets stored there when we have leftovers from takeout.
Tidy Tools
Don't let your cooking tools and gadgets float around in a drawer in a jumbled mess!
Get them in order with a simple organizing system like this expandable organizer.
Over to You!
Now it's time for you to take action and add the products that'll most help you bring more order and organization to your home!
---
Disclosure: I am a participant in the Amazon Services LLC Associates, the Container Store and Etsy Affiliate Programs, affiliate advertising programs designed to provide a means for sites to earn advertising fees by advertising and linking to Amazon.com, ContainerStore.com, and Etsy.com.  This means that when you click and make a purchase at a site via a link I have provided, I make a small commission at no additional cost to you. Regardless of whether or not I receive a commission, I only recommend products that I personally use and genuinely recommend.SaveSaveSaveSaveSaveSave