A big part of keeping any kitchen organized and cleaned up is having a place to put everything.

Some kitchens have more generous storage space than others, but in both cases, it's important to use the space you have really well!

Going to the next level of kitchen organization means optimizing the space to use every inch in the best way possible and make the most of the space you have.

Sound like an overwhelming task?

Not really when you have the right solutions!

Lucky for us, there's a bunch of options to choose from!

Here are just a few:
Optimizing Lower Kitchen Cabinets
First, for the under cabinet area, an having a drawer that pulls out is so, so, so fabulous!
The pull out drawer eliminates the need to fish stuff out from the back of the cabinet.

It's such a pain to have to get down on your hands and knees to try to reach back there.

Do yourself a huge favor by adding in a bit of structure to avoid all that hassle!
Optimizing Under the Kitchen Sink
The kitchen sink area is a space that can quickly get cluttered.

Adding in just a bit of the right structure will keep things in order.

It's pretty easy with storage solutions like these:
Elfa Cabinet Sized Drawers are a good option for smaller items, like cleaning cloths, sponges and scrapers and smaller sized cleaning products.

I would suggest this for only one side of the cabinets underneath your sink for taller items.

Even so, the different depth of drawers in this Elfa set up can accommodate different shapes and sizes of cleaning elements.
For the other side, you need a different option, with more of an open space for larger and taller items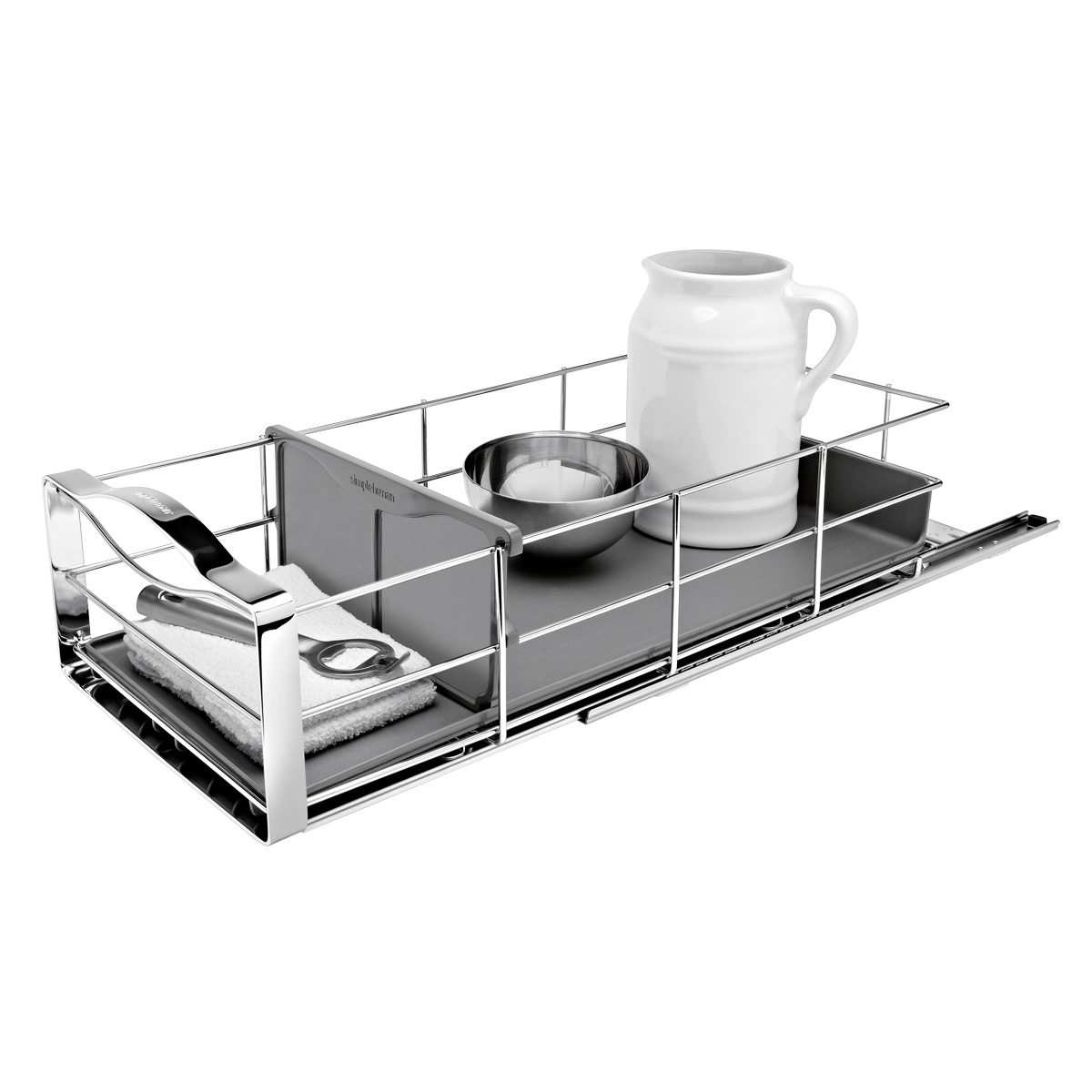 … much like this Simple Human Cabinet Organizer.

The pull out drawer has adjustable and removable dividers that will keep to keep taller items upright when moving the drawer in and out!

It's available in two different widths to accommodate most under cabinet spaces.

I love the sleep look of Simple Human products and this one does not disappoint.

One of my clients installed this under their kitchen sink. They love how easily it slides in and out, making it easy to have everything to reach.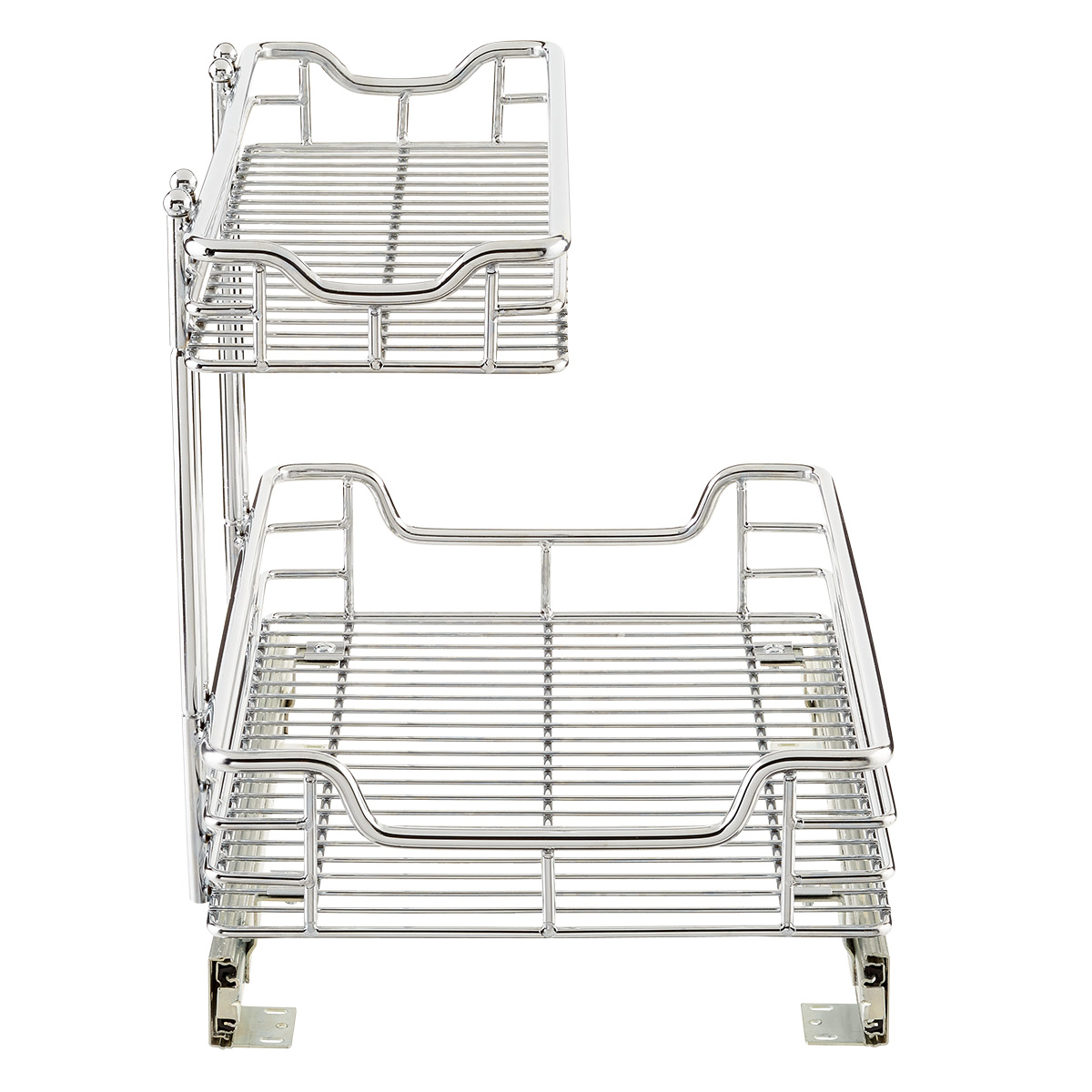 Another option that accommodates tall bottles is this Two Tier Pull Out Chrome Organizer.

It can be installed with the top tier on the left or the right, making it a really flexible option for lower cabinets!

The same clients that have the Simple Human drawer, also have this chrome organizer.
If you're not a fan of pull out solutions, a turntable option would also work well in the space.

I've seen other turn tables that don't have sides on them.

I like the idea of having some structure to keep the bottles and other cleaning tools in place on the turntable when turned.
Optimizing Other Lower Cabinets
Now let's move on down to the non-sink lower cabinets, shall we?
Don't let the area under your kitchen sink be the only space with pull out drawers!

Adding a pull out feature to as many cabinets as possible will greatly boost your productivity and satisfaction with your kitchen!
If you have the space, this double pull out shelf will really make the most of the space.

Plus it's a great idea to organize pots and pans.
Prefer a solid wood look for your pull out shelf?

This is my preferences too- no crumbs or little bits to fall through the base.

They're easy to vacuum out or wipe down every once in a while.

This style of shelf is available in a bunch of different sizes, so finding the perfect fit will be easy!
Contain Bags
One item I often find shoved into clients' lower kitchen cabinets are plastic grocery bags.

The thing about these types of bags is that they'll take up however much room you give them.

And conversely, they'll nicely squish into a small space.

So why let them run amok in your cabinets, making it hard to see other items?

Contain them instead!

I love the look of this Simple Human Bag Holder. It will hold up for a long time of use!

The bag holder is designed to be mounted, but you can also stand it up on a shelf.

Makes snagging out bags for reuse really simple!
Optimizing Upper Kitchen Cabinets
Next, it's time to cover the upper kitchen cabinets.

When you optimize a cabinet, you'll be surprised by how much you can actually fit in it!
Make use of the vertical space
If you have a tall cabinet without a lot of shelves, these Under the Shelf Baskets help to eke out every last bit of space!
Great stacking options
Bamboo Stacking Shelves are a different aesthetic look for space doublers.

And this set is designed to make the most of a corner!
These stacking shelves are good for adding in more structure and flexibility to your cabinet space, and are a budget friendly option.

This space doubler type of cabinet organizer is one of my favorites.

This lets you use up all of the vertical space, but also divides it into two different types of dishes to be stacked.

But they're physically separated by the shelf, so you can grab out what you need with just one hand.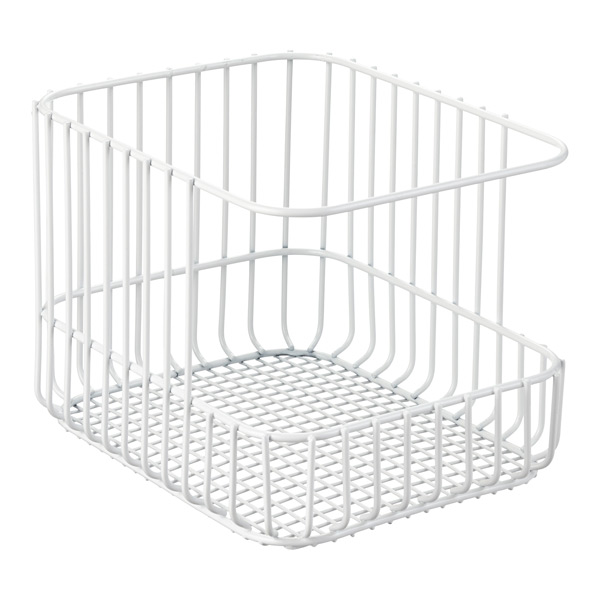 Scala Stacking Baskets offer the benefit of being able to pile things up and take full advantage of the vertical space in the basket.

These are at the top of my wishlist for my pantry.

I need to corral some kid snacks and these will work perfectly!
Increase access and your view
Sometimes you have enough space in a cabinet, but you're not able to easily see what you have!

This means it's time to life things in the back up a bit so you can more easily see them.
One strategy I use in my pantry area is an expandable tiered shelf.
This bamboo tiered shelf option works great for organizing medicines in the kitchen.
I prefer a plastic tiered shelf option for food storage and the non-skid, grippy feature this tiered shelf is smart!

It'll keep cans in place and lessen the chance of them coming tumbling out accidentally.
Another fantastic option is to add a turntable to make accessing everything as easy as a spin. OXO brand items are well made, so this cabinet sized lazy susan will add a big functionality punch to any space.
Over to you!
Motivated to get your space optimizing on?

I don't blame you!

These options are relatively inexpensive and will make a different right away.

I'm off to shop myself!
---
Disclosure: I am a participant in the Amazon Services LLC Associates, the Container Store and Etsy Affiliate Programs, affiliate advertising programs designed to provide a means for sites to earn advertising fees by advertising and linking to Amazon.com, ContainerStore.com, and Etsy.com.  This means that when you click and make a purchase at a site via a link I have provided, I make a small commission at no additional cost to you. Regardless of whether or not I receive a commission, I only recommend products that I personally use and genuinely recommend.SaveSaveSaveSaveSaveSave
SaveSave
SaveSave
SaveSave
SaveSave