Kitchen pantries are a necessity but also a nightmare because of all of the clutter that can accumulate in a hurry if you're not careful!

Luckily, restoring order to pantries by taking some time to clear out the clutter and reorganize what's left isn't too painful of a job.

This post is the perfect read for you if you're looking to overhaul your pantry by reorganizing it.

There are even real world examples with before and after pictures of reorganized pantries so you can see the organizing tips in action!

Let's get to it with some fabulous kitchen pantry organizing tips!
Survey What You Have
First, make note of what you have in the pantry.

Why physically doesn't fit?

What doesn't need to be in the pantry?

Move anything that doesn't fit or doesn't need to be there to the side.

Plan to relocate those items in another spot in your home.
Organize One Shelf at a Time
Next, resist the temptation to clear out the entire pantry all at once.

There's no faster way to be overwhelmed and annoyed with yourself than by emptying everything out in one fell swoop.

Instead, work shelf, and resist the temptation to clear everything out.

Going just one shelf at a time makes it pause this project if need be.

If you get interrupted or need a break, you can come back to resume the project when you're ready!

But if your pantry is such a hot mess that nothing less than a complete clear out will do, then go ahead and clear it all out now.
Organize Top to Bottom
If you've decided to work shelf by shelf, go in this order.

Since you're working just once shelf at a time, work from top to bottom.

This is important since you'll probably want to wipe each shelf down as you clear it.

Because dirt falls down, and never up!

Make sure to wipe down the back of the pantry walls as well as the side walls.

Cleaning as you go makes for a nice finished result and can help keep food posts like ants and moths at bay.
Adjust Shelves if Possible
If your pantry has adjustable shelves, take the time to adjust them to optimize space usage.

Say you have a tall bottle of oil that you'd like to store on the same shelf as your other oils, now's the time time to make an adjustment.

Even if you have your pantry in kitchen cabinets, you will may be able to adjust the shelves to accommodate tall items.

When the shelf is empty is the perfect time to see if that's the case!
Toss Old Food
Once you've removed food from your pantry, take the time to declutter.
Not only should you take the time to toss food that's out of date, but anything else that you're not likely to use.

Do it now instead of saving that task for later.
Put Like with Like
As you begin reloading the pantry shelf, time to think strategically!

Put groups of foods together, just like you'd find at a grocery store.

But don't feel limited to sticking with the categories stores use.

It matters more how you use the food.

Store those items together, whether or not you'd find them in the same area in the grocery store.

This will make it so much easier to find what you're looking for.

Plus, you'll be less likely to buy something you already had because you didn't know it was there.

The most common pantry sections are:
Baking
Breakfast
Grains
Beans
Vegetables
Stocks and Broths
Spices
Oils and Fats
Soups
Fruit
Snacks
Pet
Beverages
Depending on the size of your pantry, you might not have room to fit all of those categories in it, but it doesn't mean you can't still organize your food by type!
If you're unsure what will fit, group like items on your workspace first.
Decant
Next, transfer items out of their original packaging to save on space, if you wish.

My favorite trick to is to take small items, like sugar packets and granola bars out of their packaging and store them in a bowl or tall cup.

I recommend using what you have on hand versus going out and buying something- may I suggest that small bowl that only holds 1-2 cups and you never use, but don't want to get rid of?

That's the perfect candidate for becoming a food storage container.
This is one of the most effective solutions for dealing with bulk items: keep a portion out and store the rest someplace harder to reach!
Organizing the Pantry Shelves
Her are some quick pantry organizing tips in quick fire mode:
The most used items should be located in the middle shelves where no reaching is required.
Put lesser used items further down and low.
Put items you don't want your kids to have access to higher up.
Tall items should go in the back and order items in descending height coming forward.
Turn labels to face front, just like you see at grocery stores.
All of these tips make the items in your pantry easier to see!

One last, but very important tip: Consider the safety aspect when loading your pantry.

Aim to put heavier items lower and lighter items up higher.

Getting konked in the head with a roll of paper towels doesn't hurt but the same isn't true for a can of soda!
Label
Last step!

With everything back in place, start labeling!

Labeling food containers is a must, especially if you're taking the time to move food into storage containers.

Get a set of waterproof and erasable labels (affiliate link) for a cost effective labeling system.

These are on my list to when I next upgrade my pantry!
Relocate Bulk Food Storage
Unless you have a huge pantry, then you likely won't have room for bulk food from a box box store like Costco or BJs.

In order to make everything in your kitchen pantry accessible, you'll need to put the extra food in another location, say your basement or laundry room.

Pull out those bulk items and relocate them to free up space in your pantry.
A Real Life Pantry Reorganizations
I'm afraid I don't have any gorgeous, super well lit pantry before and after pictures to show you!

But I do have several real life examples you can draw inspiration from!
Pull Out Drawer Pantry Organization Tips
My pull out drawer pantry tends to get messy in a hurry because of my kids.

But here's how I tackled re-organizing it, with all of its real-life glory!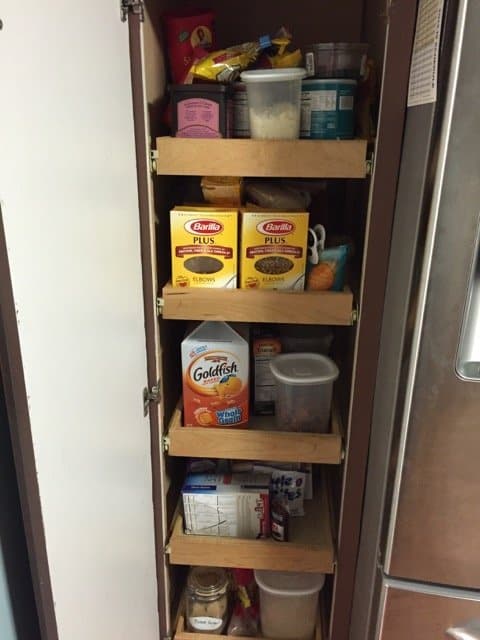 From this perspective, this pantry doesn't look like it's very out of control, but it's more of a case of the pantry being not as functional as I like it to be.
I started by emptying out the drawers and reorganizing them one at a time.
Fruit and Baking Drawer
This is the "beastly" shot of the top drawer.

I pulled everything out and discovered I had a few duplicate items and also some items that weren't being stored properly.

See how the closure on the raisins has come loose? They would've been dried out in no time.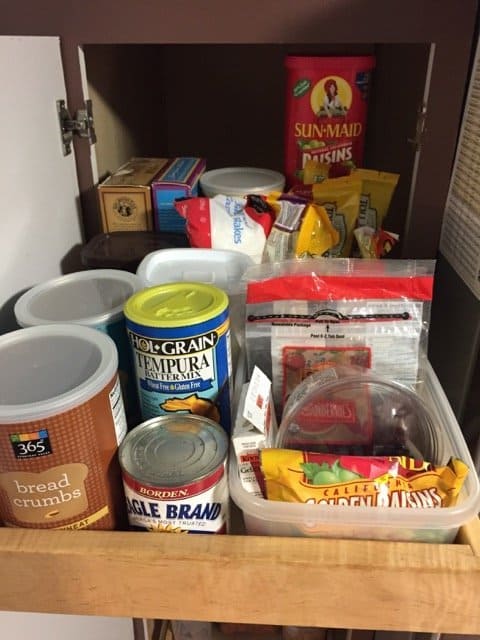 The top drawer beauty shot.

I used a long and semi-deep plastic bin to corral the dried fruit packages that can have a tendency to get messy in a hurry.

The bin is actually the bottom to a disposable plastic container that lost its lid.

Rather than tossing it, I reused it here.
The raisins were stacked with the open container on top so it'll be more likely to get used first.

The condensed milk can, once buried in the back of the drawer, now peeks out in front.

Items that can be seen will get used.

Buried items will likely go to waste.
Grain Drawer
Ugh.
This drawer is always out of control for me because I am a carb addict and I overbuy pasta.
All. The. Time.
To fix this hot mess, I put like with like.

And then lined everything up so it could be easily seen.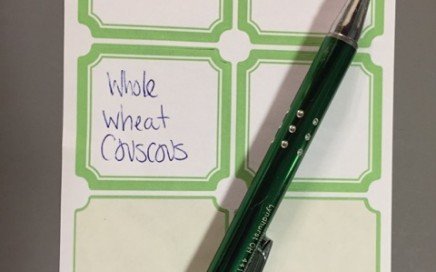 See the cute labels in action? I won't have undercooked crunchy quinoa anymore thanks to the label!
Now that the drawer is reorganized, I can see what I have. Tons of pasta. Time to make mac & cheese!
Breakfast / Snack Drawers
In my house, the kids tend to eat breakfast things as snacks too, so these food items live co-mingled.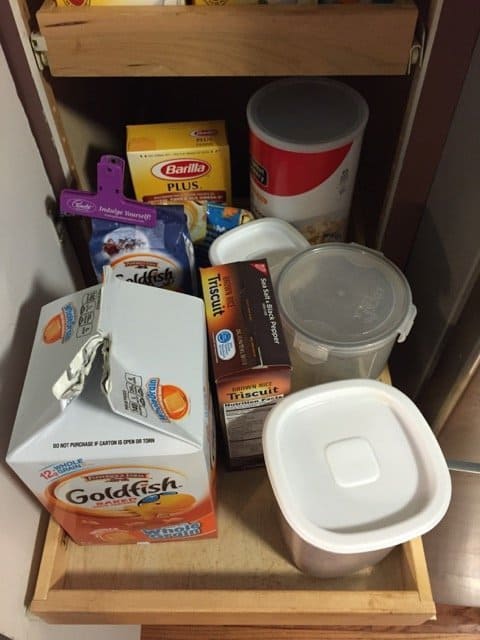 The breakfast/snack drawer #1. The kids access these drawers a lot, so they tend to be messier.

The only saving grace here is that the packages are big, so things don't get too out of control.

Also, note the box of pasta that found its way down off of the carb addict drawer.
Breakfast/snack drawer #2. I intermingle breakfast/snack items because that's how my family eats them – cereal is an all-day food.
And the containers I use don't always make it possible to fit all of the breakfast items in one drawer.
Anyhow, instant oatmeal must've been on sale, because it's nearly taking over this drawer!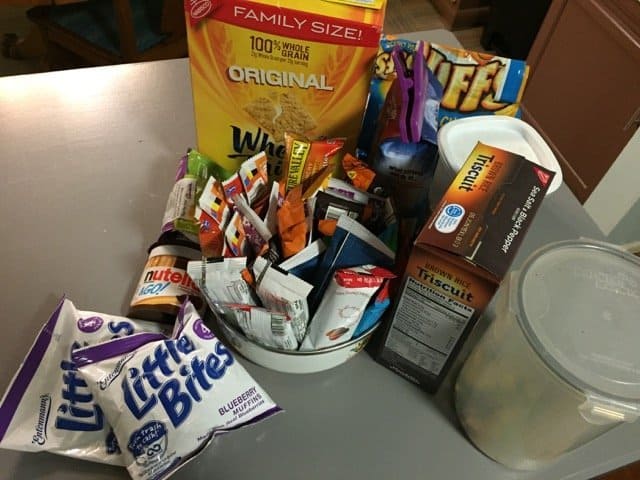 Items from the drawers pulled out.

Notice another space saving strategy I use – the kids eat a lot of granola/nutrigrain type bars. They all live together in the round metal container standing on end. I

t saves space and time to not have to root through boxes of each kind of bar. Why a round container?

It's what I had on hand.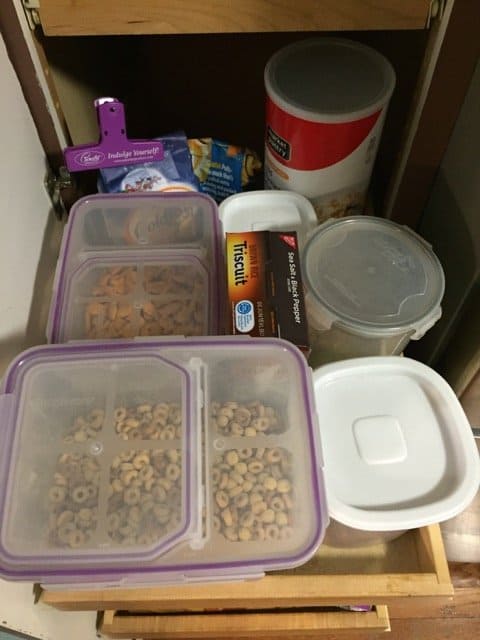 Beauty shot for Breakfast/Snack drawer #1.
And beauty shot for Breakfast/Snack drawer #2.
What I changed was to put the goldfish (there were 4! kinds!) and other snacks into plastic containers. I find my kids will close a plastic container more reliably than the package the food came in, so I try to use plastic containers when possible. I didn't label the containers because we can see what is in the containers and they are prepared foods, so no cooking instructions are necessary.
Baking Drawer
Last drawer – the baking items drawer.

I forgot to take a before picture of the baking items drawer. Not too much of a difference except for that there were bags of cornmeal, flour, and brown sugar crowded in the drawer in addition to the containers seen below.

I moved over much of the flour and cornmeal that was in original packaging to the containers I have for them.

The dark brown sugar (bottom right in picture) got a new container that seals tightly versus the Ikea clip that was somewhat loosely closing the bag.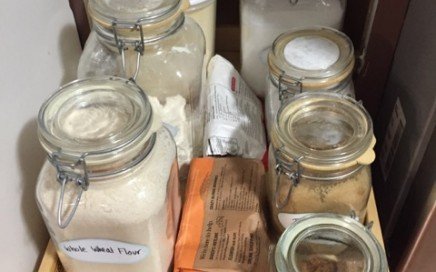 Baking supply item drawer all pretty!

Not all of the flours could fit in the containers, so I rolled down the tops of the bags tightly and placed them in the middle of the drawer so I'll be sure to see them when I need them next.

I lined up the cornmeal and flours on the left and the sugars on the right.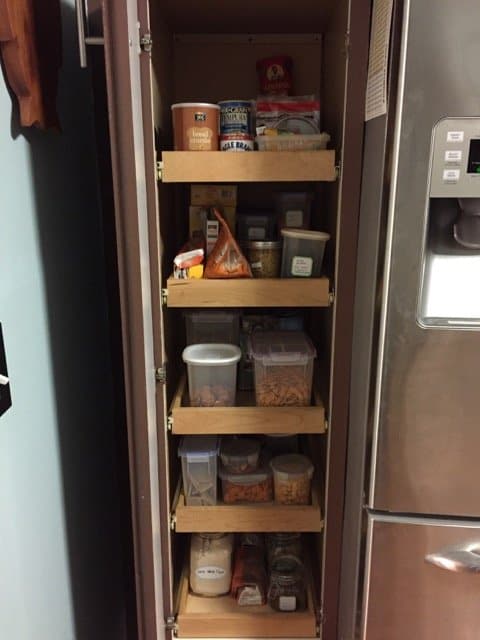 And here's the final beauty shot of everything nicely organized. And now, my kitchen pantry clutter has been cured, for now!

In the end, almost everything that was in my pantry at the start of the process stayed in because I do routinely re-organized and evaluate items for freshness and usability.

If you haven't gone through your pantry in a while, now's the time! An organized pantry saves money, time and sanity!
Fixed Shelf Pantry Organizing Tips
For this next pantry, it was reorganized on the spot without purchasing anything.

I made use of storage containers already on hand and repurposed items to act as storage containers!

See how I did it:

This pantry was a challenge because of its depth, making it hard to find things.

Despite the natural sunlight streaming in through the kitchen window over the sink, it was still a pretty dark space, hence the light mounted on the pantry door!
So there was some semblance of organization here.

Paper products were grouped together- somewhat.

Spices were in a basket.

But tall items were in the front, blocking the view of items in the back.
Applying many of the organizing tips shared above, I set to work.

Grouping tall and infrequently used disposable table ware and paper products at the very top.

The food wraps and storage bags also now live together on a shelf, a little over my client's head, but still reachable without much effort.

The middle shelves hold the most frequently used food.

Duplicate items are stored right next to (or on top of in the case of the Irish Oatmeal) the open containers.

This increases the likelihood that they'll be grabbed out for use first.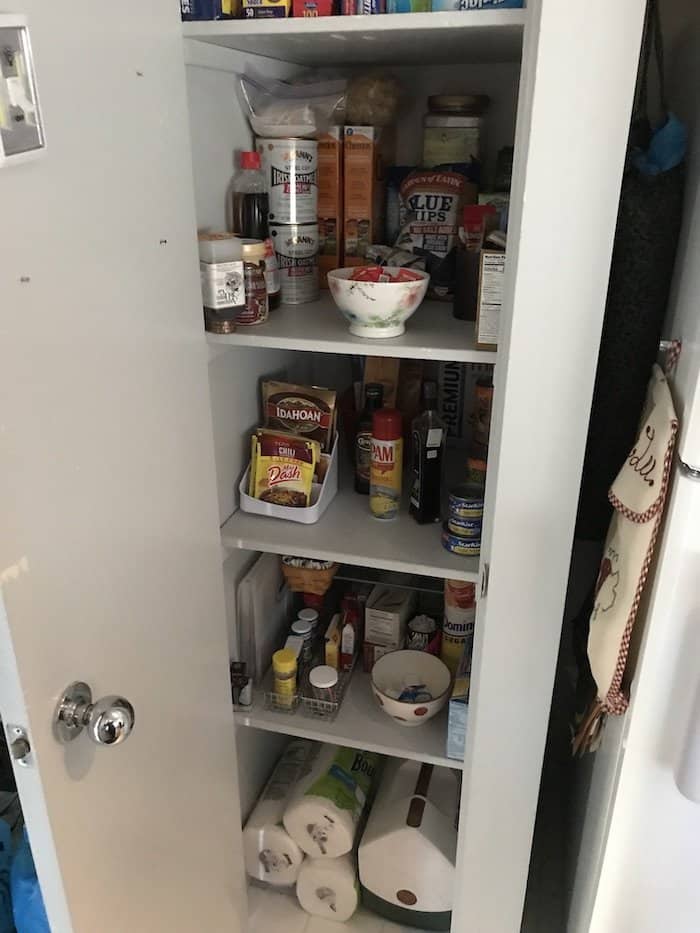 In this last after shot of the pantry, you can see the decanting trick I mentioned earlier.

The bowl on the top shelf in the picture is holding sauce packets and the bowl on the bottom shelf now holds coffee creamer cups.

Much better than how they were in the before picture!
Over to you!
Now you know the basics of organizing your kitchen pantry!

This is a great project for a quick win that'll have an immediate impact on your life, so don't hesitate to try it!
---
Disclosure: I am a participant in the Amazon Services LLC Associates, the Container Store and Etsy Affiliate Programs, affiliate advertising programs designed to provide a means for sites to earn advertising fees by advertising and linking to Amazon.com, ContainerStore.com, and Etsy.com.  This means that when you click and make a purchase at a site via a link I have provided, I make a small commission at no additional cost to you. Regardless of whether or not I receive a commission, I only recommend products that I personally use and genuinely recommend.SaveSaveSaveSaveSaveSave