Your kitchen may be the heart of your home, but it also hosts a bevy of places for clutter to hide.

Sometimes in plain sight too!

And the tricky thing about all of this clutter is that it can easily clog up your kitchen, a key space for keeping your home buzzing along as an organized hub of efficiency.

Here are top 7 places in your kitchen to concentrate on rooting clutter out from!
Under the Kitchen Sink
From plastic grocery bags that quickly consume every inch of extra space to almost empty cleaning product bottles, the under the sink area is a prime location for a big clutter party!
Pare down the cleaning products under the sink area to those used most often and that perform the best too.

Now's the time to ditch the cleaner with the heavy vanilla scent that turns your stomach.

Replace it with a cleaner that you'll actually use.
Score a deal on cleaning supplies?
Resist the urge to store your entire collection beneath the sink.

I guarantee a few of the bottles will get lost in the back.

Instead, put extras in a separate storage area and check there first before shopping.
Under Sink Before and After
A dark, dented and piled up mess is what I started with in this space underneath the kitchen sink.

The client had tried to make the most of the space with a pull out basket on the right and a door basket on the left for plant fertilizer.
But the door basket never quite stayed on due to the weight of the items stored in it and the pull out basket got dented and rusted and was a pain to open and close, hence the piled up mess as things were just tossed into it.
Turns out the screws were put in too tight to keep the door basket in place, so with that adjustment, the plant food was able to go back there.

A water proof liner brightened up the space, as the did the removal of the pull out basket.

Replacing the wire basket with the three plastic basket increased what could be stored there since cleaning items were separated by type and acted like slide out bins since the liner let them glide back and forth.
Refrigerator Top
If the top of your fridge is home to dusty bottles of wine, last year's lunch boxes and cereal boxes, it's just making your kitchen look super cluttered.

And because you're probably not tall enough to see what's at the very back, behind the first layer of stuff, you're in for a surprise of even more clutter!

Smaller items will work their way back and become lost.

Clear off as much stuff from the top of your fridge as possible and keep it that way to keep your kitchen space looking instantly more organized!
Inside the Fridge
I'm sure it's no surprise that your refrigerator interior is home to lots of clutter!

Clear out food you won't eat at least weekly.

The night before garbage collection is a good weekly habit to establish clearing out old food from the fridge.

Then, once a season, do a major clean out of the fridge and freezer space to make room for fresh food to not let anything moldy or freezer burnt take up space for too long.

But beyond the weekly leftovers, another clutter culprit is slowly taking over your fridge…

And that's take out condiment packets!

Paring down your sauce collection is an easy way to clear out the fridge clutter.

First, immediately pitch anything sticky, grubby or open.

Next, be realistic about what you'll actually use before you visit that restaurant again and let go of the rest.

To keep them from invading every nook and cranny, get a small plastic container (preferably see through) to keep the condiment packets in.

Let the container act as a limit.

When the container is filled, no more can be kept.
Fridge Before and After
Let's take a look at this disorganized fridge and see how it went from a crowded, cluttered scary place to a roomy, organized space!
Wowza!

Look at all of those condiment packets and how much space they're taking up!

This client didn't actually realize how many she had.

We ended up pitching all of them.
Look at all the space we freed up by getting rid of all those condiment packets AND all the other food the client wasn't going to eat!

The beer bottles and other guest beverages were relocated to the bottom and back, and items the client would use soon and more frequently were given center stage on the top shelf and in the door bins.

Tall items in the back, shorties up front, just like school pictures!

Amazing what a few tweaks can make.

Click here to get even more smart fridge organizing tips!
Cabinets Above the Fridge
Similarly, cabinet space above the fridge is another clutter magnet.

Since this space is usually out of reach without a step stool for pretty much everyone, items get tossed up there and forgotten about two seconds later.

A better use for this space are items not frequently used.

Serving dishes used only for holidays and other special occasions are perfect candidates to live here instead of items you don't know what to do with.

Using this space strategically can help free up space that's easily accessible to make your everyday life in the kitchen more spacious!
Gadget and Utensil Drawers
Kitchen tool and gadget drawers are yet more spaces in the kitchen that clutter accumulates in so easily.

Before you know it, you're rifling through the drawer for the potato peeler, but you have to sift through random chop stocks, a egg slicer, biscuit cutter and a whole bunch of rubber spatula scrapers.

In order to banish clutter from these areas, start with eliminating duplicates.

Then get rid of anything you don't actually use.

Like that one gadget you thought would make your life in the kitchen so much easier.

Only it hasn't and it's a pain to clean too.

This sort of kitchen tool is a prime example of an item you should easily let go of!

The truth is, many kitchen gadgets can be eliminated just by learning basic knife skills.

For example, easily pop the skin off by putting a chef's knife flat on top of the garlic clove and hitting the knife with the heel of your hand?

Takes about 2 seconds and no more need for a garlic peeler!
Not sure you're ready to permanently part with something?
Put it in a labeled box along with a date 6 months in the future.

If that date passes without you needing to retrieve it form the box, get rid of the entire box.

But don't look inside to double check.

Trust that the time that's passed is backing you up here and let go of the box.
Gadget Drawer Before and After
I forgot to get a true "before" of this cadet drawer, but the three baskets in the drawer were pulled up front and all that free space was in the back, making items stored back there pretty much impossible to see or access.
The transformation took a rapid decluttering if duplicates and seen better days tools and then like items were grouped together.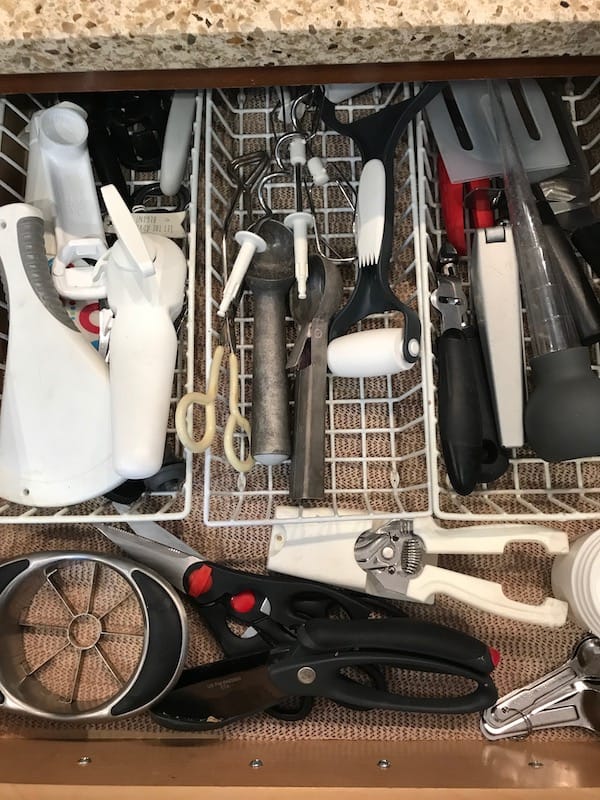 Fresh drawer liner means items will better stay put and won't slide around in the drawer.

Moving the baskets back freed up a bunch of space for the most often accessed items.
Pantry
Your kitchen pantry is another usual suspect for clutter accumulation, and I'm sure this is no surprise.

At least twice a year, go through your pantry to get rid of food items you won't use.

Consider donating items that are still fresh to a food bank.

Check the dates on items, especially baking items.

Old baking powder just won't perform as expected, for example, so it's best to get a new supply if the can you have has been open for over a year.

Also, as we get older, it might seem like that it was just yesterday when we got the container or panko breadcrumbs, but a quick check of the date can reveal that it was actually 4 years ago.

I may or may not know this from first hand experience… I can neither confirm nor deny. 🙂
Pantry Before and After
The pantry featured here was pretty jam packed with items and such a headache for the client to deal with.

All the different container sizes and shapes made keeping this space organized such a challenge.
But wow, look at the after of this space!

The addition of the three pullout bins meant that no longer would food go stale at the back of the cabinet since everything was so easy to access.

Like items were grouped and stacked, with taller items in the back and shorter items in the front, boosting visibility in the space.

So much better, no?

Click here to read more fantastic pantry organizing strategies.
Cabinets
One last place to shine the clutter finder spotlight is in your kitchen cabinets.

Lots of clutter lives here, of course.

Especially in the cabinets up high and down low.

Everything from serving dishes you never use to random dishes from sets you've mostly replaced can fill valuable cabinet space.
Also, kid dishes and plastic food storage containers are super common clutter culprits.

Both seems to multiply like bunnies and can quickly take over more space than they deserve if left unchecked.

Because of their small size and odd shapes, kid plates and bowls are sometimes hard to stack and store nicely.

Use a basket to corral them and keep them all together, making it easy for kids to help themselves.
Here's video showing how I organize my corner Lazy Susan cabinets using baskets to keep things in their place:
Paring down your collection of food containers can give you an instant win!

The prize is more cabinet space, so don't put off this quick win!

Here's a great post about how to organize food storage containers that will help you beat the clutter back.
Cabinet Before and After
The cabinet you're about to see is such a jumbled mess of a total waste of space.

The client had no discernible purpose for this section of her kitchen and she wasn't taking advantage of the pullout shelves.
But oh boy, did we change that in a jiffy with a simple declutter and reimagine of the space!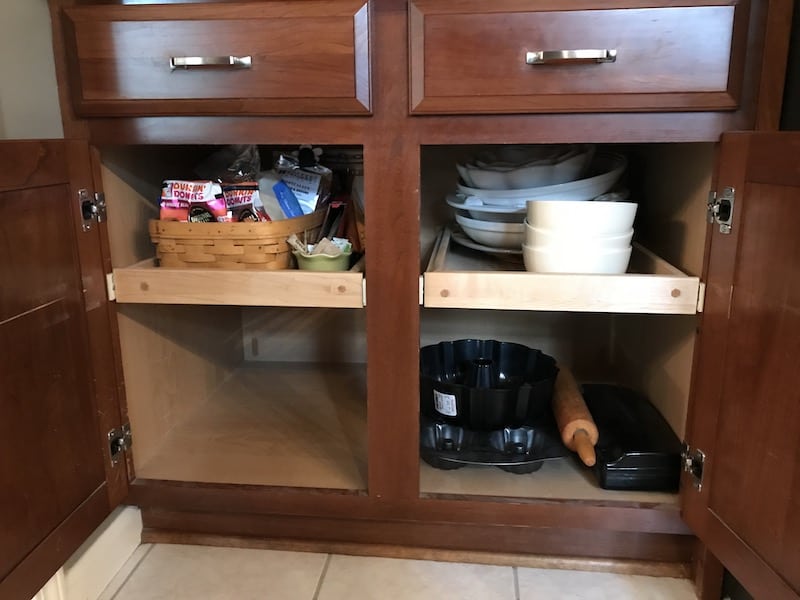 Once the clutter was pulled out (and added straight to a donation box) there was so much room!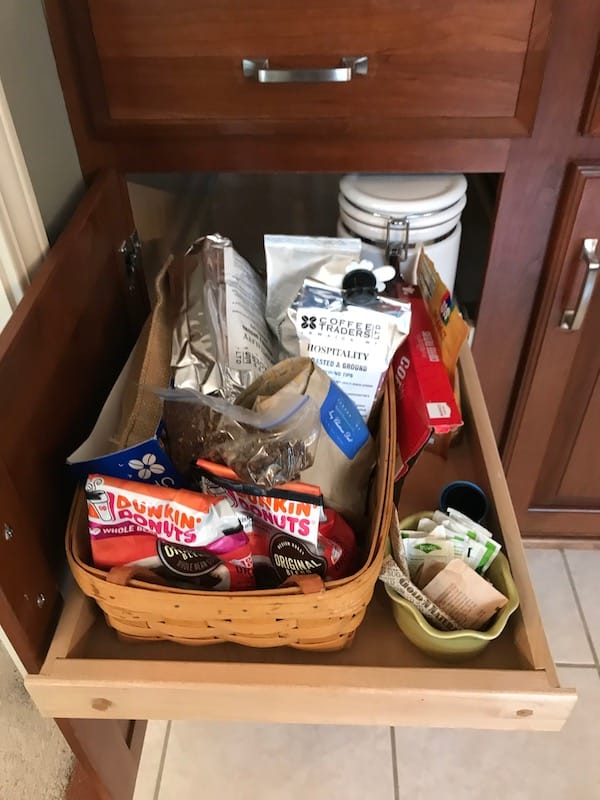 And there was even space for a coffee and tea zone, all using existing containers that were otherwise not being used.

The client was absolutely thrilled with this no-cost addition of such functionality to her kitchen!

And she has half a cabinet to play with too!

Woot!

Click here to read more about optimizing kitchen cabinets just as effortlessly!
Over to you!
And that's a wrap for 7 places that clutter hides in your kitchen!

Did you enjoy seeing the real life before and after examples?

Hope they're motivating and inspiring you to take action.

Now that you know where the clutter is hiding in your kitchen, what area will you tackle first?