Yay! Your guide is on its way!
Thanks for signing up to get the 5 Organizing Mistakes to Avoid Guide!
I'm so excited that you're ready to be free of the stress and overwhelm disorganization causes!
A major reason why people have a hard time getting organized is because they're waiting for inspiration or motivation to strike their fancy!
Well, that's just not how it works.
If you want to get organized, you have to take action- each day!
There's no magic way to do this.  You just have to start!
But that can seem pretty overwhelming because there's a bunch of areas that need attention, right?
Narrowing down where the BEST place to start quickly becomes paralyzing.
And at the end of the day, you're no closer to a decluttered space.  So frustrating!
But what if there was a way to take away the hard decisions?
And what if this way secretly helped you to form habits to stay organized long term?!?!?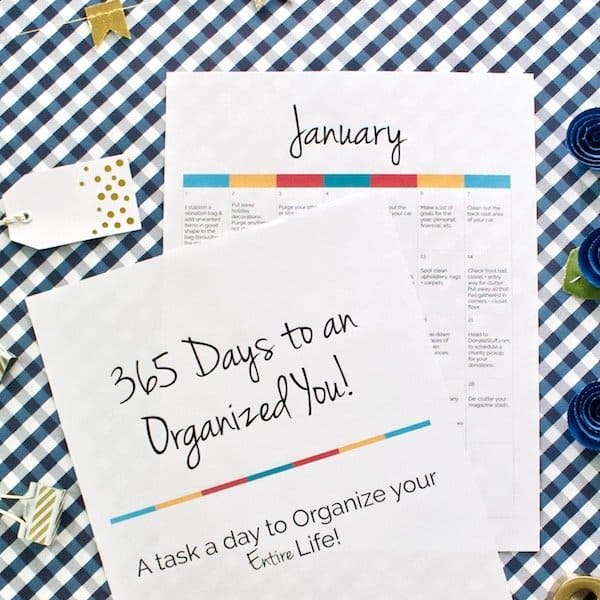 Enter the 365 Days to an Organized You calendar!
This one of its kind calendar makes getting started so simple.
You just look to the calendar each day to find out your easy to accomplish daily task.
Then you do the task.
And feel like a complete winner, dancing in around your home because you've finally started working towards your goal!
Grab 365 Days to an Organized you for just $12 on this page only!
Day by day, you're getting your life more organized and in control.
Only you're not getting behind in other areas of your life!
The genius behind this calendar is that all of the hard work of figuring out the best place to begin has already been decided for you!
Overachievers will love being able to look back and catch up on those tasks.
But if you have a tight schedule, you'll so appreciate the bite-sized tasks that easily fit into your daily routine!
Who is Streamlined Living and why should I trust her?
In case we haven't yet met, I'm Christina Hidek, the attorney turned Professional Organizer people turn to when they want to get and stay organized without getting overwhelmed and turning their lives upside down!
My organizing strategies are practical, straightforward and just make sense.  No complicated or confusing advice here!