Like most women, I love jewelry and accessories.

But if you've met me in person, you probably wouldn't think that because I hardly ever wear much jewelry at all.

Why?

Because my system for organizing jewelry has been pretty bad- until I got my jewelry organized differently.

I couldn't actually see most of what I owned, so I didn't wear it!
You'll Wear More of Your Jewelry if You Can See It
It just makes sense that if your jewelry is not organized so that you can actually see it, you'll wear more of it.

This post covers both the process of organizing jewelry as well as great jewelry storage solutions!
The Process of Organizing Jewelry
The process start off just like any other organizing project, with removing what you no longer want or need.

This means you're left with only what you'll want to wear, and you'll be able to choose the best storage option knowing exactly how much jewelry you have.
Declutter
First, time to pare down your collection by decluttering it.

Pull out jewelry that is:
Too big or too small
Broken
Orphaned (single earrings)
No longer your style
Not something you like
Something you won't wear, but not items that are sentimental (we'll cover that later)
For broken and orphaned items, consider fixing, repurposing or donating them to The Orphan Earring project.
For all of the other jewelry, sell it or pass it along to friends.
What about Sentimental Jewelry?
So far, we've covered what to get rid of, but what should you be keeping?

Not only should you keep what you wear regularly, but also sentimental jewelry.

But store the sentimental items out of the way and in a separate area from your everyday jewelry pieces.

It's easier to find what you're looking for when you don't have to sift through jewelry you're not going to wear.
Sort
With your jewelry decluttered, it's time to sort what's left.

Getting an accurate picture of what jewelry you have to store is crucial to choosing the right storage system.

You don't want to get your heart set on a system only to discover that the system can't accommodate your jewelry collection, or that the system won't work in your home.

Work to sort your jewelry by type:
Rings
Bracelets
Chunky necklaces
Thin or short necklaces
Bracelets
Post earrings
Non-post earrings
Store
With decluttering and sorting done, it's time to move onto choosing a jewelry storage system.
There are so many different ways to store jewelry.

Whatever system you choose, make sure to leave room for growth!

Now, let's get into to some of them!
Organize and Display Jewelry by Using it as Art
Take an old printer's drawer, add a few tiny nails, and hang up pairs of earrings and bracelets.

And voila!

You have practical and pretty jewelry art.
Organizing Jewelry in a Drawer
There are a few options for organizing jewelry in a drawer!

The most important thing to remember about organizing in a drawer is to take full advantage of the drawer depth.

Stack containers to use up that depth if necessary.
Use What You Have on Hand
If you're organizing on a budget, good news!

Chances are you already have all that you need to get your jewelry organized.

The truth is that there are different products available to help you get organized, but it's not necessary.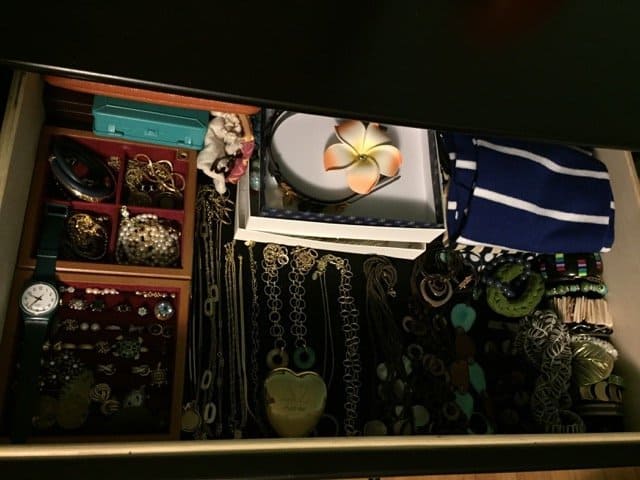 To bring this drawer together, I used only what I had on hand: a sturdy scarf box and two trays from a small jewelry box.

Not very pretty, but it works!
Level Up with Pretty Organizers
If you want to make your jewelry drawer pretty and functional, here are some great options!
These stacking jewelry boxes are lovely.

The crisp ivory will brighten up dark drawers!
These stacking jewelry trays will work on top of a dresser or in a drawer.
As would this stackable jewelry tray set!
Acrylic jewelry trays also make a jewelry drawer look sharp.

This one has generously sized sections, meaning it'll be easy to get jewelry out!
Jewelry Boxes
Don't have the drawer space for an in-drawer option?

Use a jewelry box instead!
Wolf jewelry boxes are simply gorgeous and come in a variety of colors and sizes.

The Wolf jewelry box pictured above is the London Large Jewelry Box in Ice.

In person, this is the sort of thing you just want to keep looking at, even without jewelry in it, just because it's so gorgeous!
Don't need such a big jewelry box?

This grey box is just right for a small jewelry collection.
Another good option for small jewelry collections is this two tier stacking box. Dust wouldn't get into the trays, which is a nice feature.
Want an option that doesn't even look like there's jewelry inside? Then you have to take a look at how this unassuming wooden jewelry box works.
Display as Decor
For smaller collections, you can use the jewelry itself as decor. Most jewelry looks really pretty displayed, so why not give it a try?
This dresser top jewelry stand accommodates necklaces in a variety of lengths and is a great way to keep everything table free. There's even a dedicated row for earrings. How perfect for should length earrings!
This stand could be used to neatly display both necklaces and bracelets and is perfect for smaller collections.
How nice is this stand, with room for rings and jewelry that's worn on the daily to live in the tray at the base?
Not a necklace wearer? Then this shorter bar stand might be just what you need to display bracelets and earrings.
for an entirely different jewelry display aesthetic, check out this jewelry tree.
This prism jewelry stand looks pretty with jewelry or not!
Using a combination of display methods will make it so you don't have a wall of jewelry to look at. This dachshund ring holder is a cute way to keep rings from getting lost.
This bunny ring holder from Umbra is too cute. Looks great without anything on it!
Just like this Eiffel Tower ring holder, also from Umbra! How fun to remember a trip to Paris or as a nod to a world traveler lifestyle.
Over to you!
And now you have the steps for organizing jewelry:
Have fun getting your jewelry collection beautifully organized, no matter which storage system you end up choosing! Using your jewelry not only to adorn you, but also to add beauty to your bedroom of closet space is a smart way to prevent clutter since all of your jewelry pieces have a gorgeous and defined home.
---
Disclosure: I am a participant in the Amazon Services LLC Associates, the Container Store and Etsy Affiliate Programs, affiliate advertising programs designed to provide a means for sites to earn advertising fees by advertising and linking to Amazon.com, ContainerStore.com, and Etsy.com.  This means that when you click and make a purchase at a site via a link I have provided, I make a small commission at no additional cost to you. Regardless of whether or not I receive a commission, I only recommend products that I personally use and genuinely recommend.SaveSaveSaveSaveSaveSave